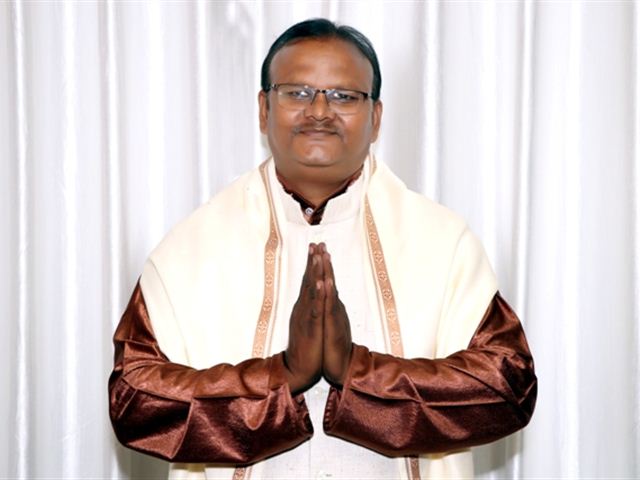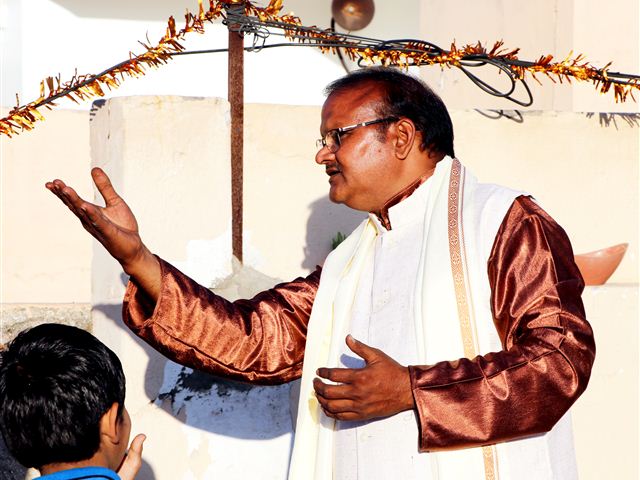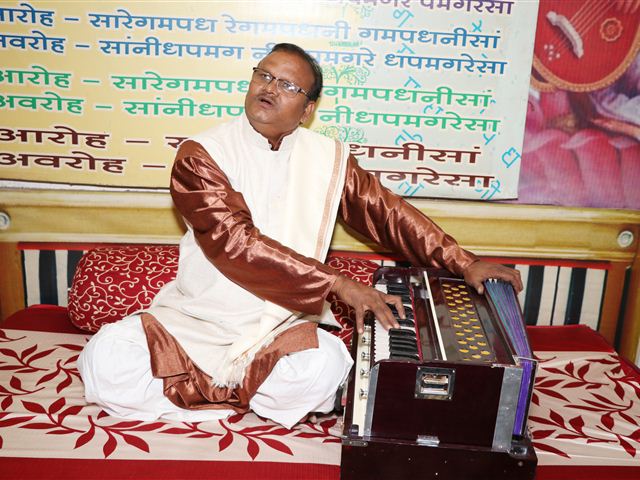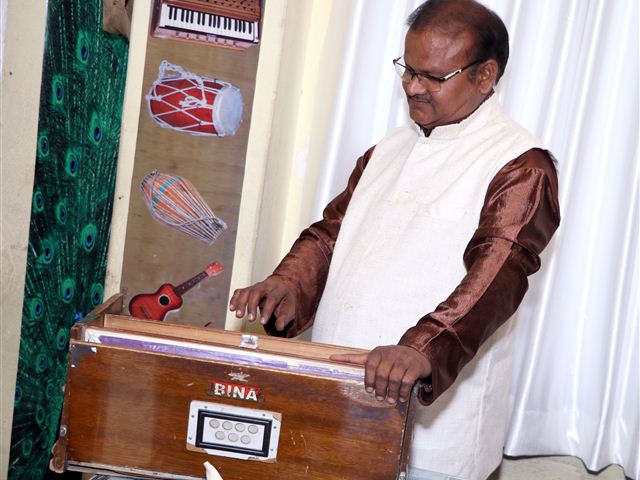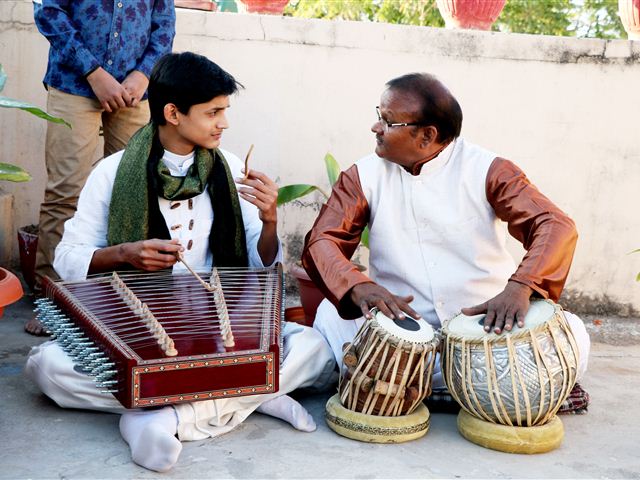 About Pandit Avadhkishor Pandey
On 1st July, 1970 A man with the will and power to make the whole world learn Indian Classical Music through his dream of Sangeet Pravah World had taken birth on this Earth to serve the music lovers and disciples. Pandit Avadhkishor Pandey (Founder-Director Sangeet Pravah World) was born in Dhanmau village of Mainpuri District in Uttar Pradesh, India. His father, Late Pandit Shri Shreeram Pandey, was a farmer and had no interest in Music but Panditji had a god given gift since birth. During his childhood, he wrote many poems, bhajans & songs. When he was in 8th standard he wrote the script of a drama, directed it, and also presented it in a school function, along with his classmates. He has completed graduation from Agra University, after which he came to Udaipur, Rajasthan & completed post-graduation in Hindi, Sanskrit, Social Work and Indian Classical Vocal Music. He worked in many educational institutions in Udaipur as a Music Teacher. During this time he wrote many Songs, Poems, Bhajans, Ghazals, Thumries & School drama for students.
Panditji learnt music in all the three forms – Vocal, Instrumental and Dance, from Late Pandit Jagannath Prasad 'Sangeet Murti' and his son Pandit Narendra Kumar Vyavat in Udaipur. Panditji has a tremendous quality of composing melodious Music. His students have won many music competitions at National Level under his direction and guidance through songs composed by him. At present some of his students (who learnt music from him) are successfully running their own orchestras in foreign countries. Pandit Avadhkishor Pandey is a whirlpool of talent, who has never taken a step back in passing on the talent he possesses to anyone who is willing to learn.
Pandit Avadhkishor Pandey has a different approach towards teaching music. He does not believe in the conventional method of teaching in which the teacher sings a song and the student repeats it. He broke this traditional method and evolved a new and more innovative way of teaching music. He starts teaching the basics (grammar of music). He imparts the knowledge of how music is formed and then encourages children to apply it practically under his guidance. In Panditji's words, "We create The Creators of Music not the Followers". Panditji aspires and hopes that in the future, his teaching methodology will become famous worldwide as a separate 'gharana' which will be known by the name of Sangeet Pravah World.
Pandit Avadhkishor Pandey is an institution in him. If you need a song, you can ask Panditji and he'll write & compose a song which will meet exactly your need, situation and scene. When you need a dramatist, you can count upon Panditji. He is a producer and a director. Apart from these, he is also a choreographer, an instrumentalist and a dancer. He is an ocean of talents par excellence. Unlike many who specialize in only one field or form of music, Panditji has knowledge of all the forms. Therefore, the lines, "main sab kuch hoon, par kuch bhi nahi" best describe the expanse of Panditji's knowledge and talent.
At present Panditji is working as Founder-Director of Sangeet Pravah World, which is a branch of his Music Insitute 'Nishad Sangeet Evam Natak Prashikshan Kendra Samiti' (founded on March 15, 2000) in Udaipur, Rajasthan, India. His institute is affiliated to Prayag Sangeet University, Allahabad in Uttar Pradesh, India which provide 8 years degree (Sangeet Prabhakar, Sangeet Praveen & Vidyavachaspati) in music to the students which is equivalent to trained graduate, trained post-graduate & PhD. He has created "The Music Book of Sangeet Pravah World - Swarangini" which assures to teach complete music to anybody who solves it. He has done so much Writing & Composing in music that it can be converted into a book which he would name "Geetanjali".
Pandit Avadhkishor Pandey not only teaches music in his institute, but is also involved in teaching music globally through the use of technology. Taking his degree in social work a step further, he has created his YouTube channel 'Sangeet Pravah World' which is a collection of Music Learning Tutorials, Motivational Speeches & Songs on every topic which can fulfill anybody's need and desires for Music. This Flourishing YouTube Channel is updated daily; You can find daily a new video which will turn up your life. These Music Learning Videos are helping those who are willing to learn music, but cannot approach Panditji in person. This channel is completely free of cost and is easily accessible to all who are willing to take virtual music classes. Apart from this, you can also find Pandit Avadhkishor Pandey (as Sangeet Pravah World) on Facebook, Twitter, LinkedIn, Instagram, WhatsApp & Justdial and seek his guidance through regular chats or messages.
His believe is that Sangeet Pravah World is a Gratuitous Music Institution and is teaching Complete Music to the whole world. If a person needs to enter in his Universe of Music then he just need to Subscribe the Channel and he would be in the pool of complete music and life education provided by him and his team.